The first mountain bikes were fully rigid with no suspension and it was a bumpy ride until the suspension fork was developed.
The concept already existed for motorbikes and just needed to be adapted. The introduction of suspension forks was a huge step in the evolution of the sport as it allowed riders to travel faster and at greater comfort over rough terrain.
Eventually rear suspension was also introduced and with it the classification of mountain bikes into full suspension bikes, or hardtails with just a suspension fork.
Full suspension bikes have become the norm in recent years. The common perception that more is better, plus the fact that a full suspension bike is faster through technical terrain has ensured that full suspension bikes are very desirable.
This does not mean that hardtails are dead. In fact, there are a number of advantages to riding a hardtail. Most importantly for cross country racers, a hardtail is lighter.
 GT Pantera Comp Hardtail Mountain Bike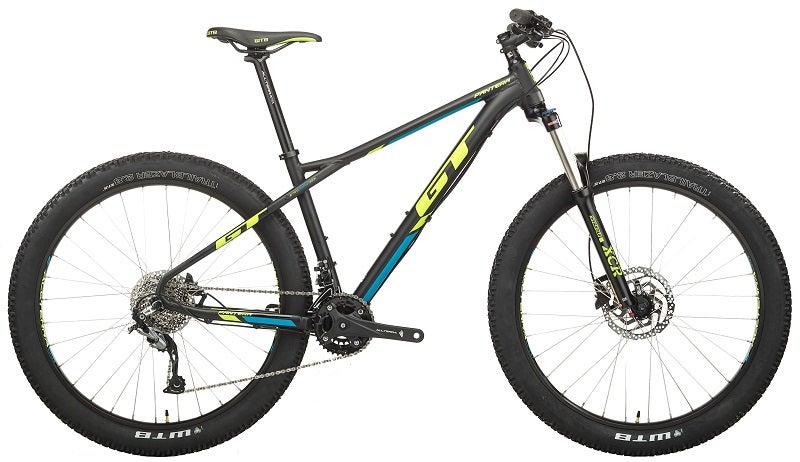 GT Pantera Comp Mountain Bike at a Glance:
Frame: 6061 T6 Aluminum
Fork: Suntour XCR32-Air 120mm travel
Drivetrain: Shimano Alivio 2×9
Brakes: Tektro Hydro Disc 180mm rotor front, 160mm rotor rear
Wheelset: All Terra DB-X40 Double Wall 27.5+
Tires: WTB Trail Blazer 27.5″x2.8″
The Pantera is a classic GT model from the 90s that has recently been revised and updated to keep up with modern trends. A slack head angle, longer reach and rear boost axle spacing mean that you get a bike that is more than ready to hit the trails.
This model is the perfect hardtail to help you get into the sport without a huge initial investment. While the components are entry level,  they are more than capable and allow you to upgrade in the future.
FRAME
In terms of intended use, the Pantera leans more towards the hardcore hardtail side of life than XC. The geometry wants you to push hard on descents and remains stable in corners.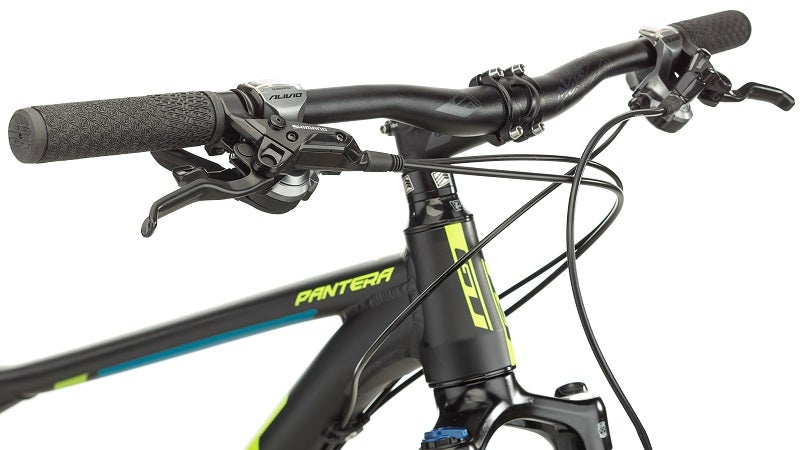 GT Pantera Comp Mountain Bike Handlebars
You can even jump it with confidence and the design of the frame absorbs impacts in the chainstay, giving you a more comfortable ride. The plus size tires have tons of grip and add an element of comfort over narrower-tired bikes.
You can take the Pantera anywhere. It is at home on all kinds of trails and even has eyelets for pannier racks, making it suitable for bikepacking adventures.
SHOCK & SUSPENSION
Absorbing bumps at the front is a Suntour XCR 32 fork with 120mm of travel, rebound adjustment and lockout to increase climbing efficiency. The 32mm stanchions are reasonably stiff and Suntour classify this fork for XC and all mountain use.
This means you can push it hard through rough terrain with no problem. It will also hold its own on jumps and small drops but if these features become a regular part of your rides, you will probably want to upgrade the fork to something more capable.
DRIVETRAIN
A 2×9 drivetrain made up of Shimano Alivio shifters and derailleurs, All-Terra cranks and a KMC chain gives you just about enough range for your adventures. In the future you may want to upgrade to a 1x drivetrain to reduce weight and get more gear range.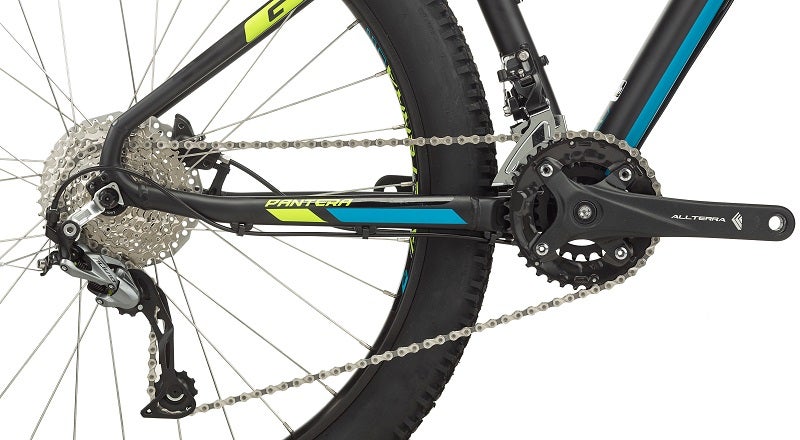 GT Pantera Comp Mountain Bike 2×9 drivetrain
It is nice to see that GT include flat pedals with the Pantera. Most new bikes do not come with pedals as pedal choice is personal to each rider.
However, GT recognize that the Pantera Comp is very likely to be your first mountain bike and do not want to leave you alone to choose pedals, or use an pair from another bike that are unsuitable for the Pantera's trail shredding intentions.
STEM & HANDLEBARS
All-Terra also provide a reasonably wide 710mm handlebar and a 60mm stem. As your confidence on rough trails increases, a wider bar and shorter stem will give you a bit more  control, but to get started, this combination is perfect. No dropper post is included but the frame is compatible with one.
The Pantera Comp is the perfect bike for anyone that is serious about getting into mountain biking. You get a great modern frame and capable components without spending lots of money.
As your skills progress and parts wear out, you can replace them with better or lighter options. The Pantera really does have lots of upgrade potential and is capable of all kinds of riding, from XC laps, hectic downhill trails and bikepacking.
This, along with its upgrade potential, mean that the Pantera will be a reliable bike for many years and countless adventures. If your looking for the best hardtail mountain bike under $1000, the GT Pantera is a good choice.