Hiking boots are critical to your comfort and performance on the trail, but this no longer means a stiff and burly model that will weigh you down. The trend is toward lighter materials that still offer decent support, and waterproof boots are the most popular by far (many are offered in a non-waterproof version for hiking in hot or dry climates). Our picks for the best hiking boots of 2018 below are broken down into three categories: lightweight boots for day hiking and fastpacking, midweight options that work well for most backpacking trips, and heavyweights for rough terrain or hauling a large load.
Salomon Quest 4D 3 GTX ($230)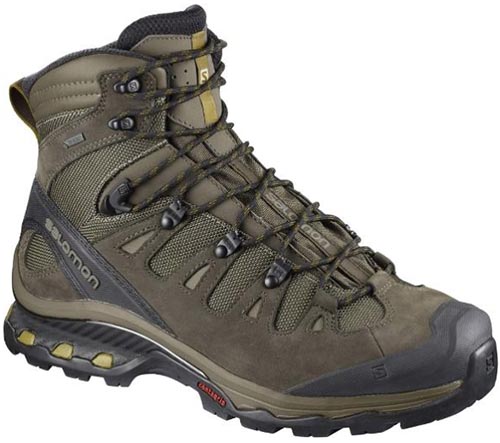 Category: Midweight
Weight: 2 lbs. 13.8 oz.
Waterproof: Yes (Gore-Tex)
What we like: Tough and supportive yet comfortable.
What we don't: Pretty heavy and overkill for most day hiking.
Salomon's updated Quest 4D 3 GTX is the whole package, combining fantastic comfort, traction, and support for serious day hiking and backpacking. Building on the popular Quest 4D 2, the new boot adds an aggressive outsole that grips well in just about all conditions, and a redesigned, more flexible platform for improved comfort. What stays consistent is the top-notch performance fit, aggressive stance, and durable construction that has made the Quest our favorite all-around hiking boot for years.
The new Quest 4D 3 GTX is not, however, any lighter than the previous model and sits solidly in our midweight category. It was ideal for our trek on the demanding Huemul Circuit in Patagonia, which involved steep climbs and descents and off-trail hiking while carrying a full pack. But the boot is a bit stiff and overkill for people that don't need the extra protection or want to move fast and light on well-maintained trails. Those folks will be better off with a lighter and nimbler boot option like the Salomon X Ultra 3 Mid GTX below.