To truly enjoy living in NYC, you occasionally have to leave it. Fresh air and ample personal space are the perfect antidotes to a crowded subway, and with 180 state parks to choose from, New York has plenty of both. Whether you want to swim under a waterfall, climb to the highest point in New York State, or just avoid social media for a few hours, here are some of the best trails the Empire State has to offer.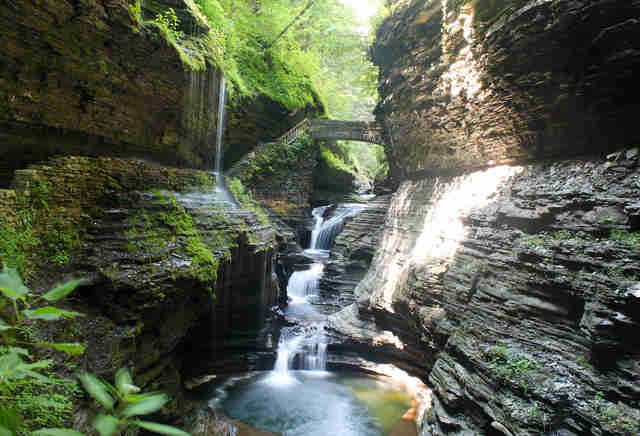 Gorge and Indian Trail, Watkins Glen State Park
Watkins Glen
Distance: 2.4 miles
You'll feel like Indiana Jones, winding through caves, across bridges, and over waterfalls — 19 of them, to be exact. The wide stone pathway has been carved into the rock and makes for easy walking, so instead of looking down at your feet you can gawk at the dramatic rock formations and pools around you. This one of the more popular parks in the Finger Lakes region, so aim for off-peak hours if you don't want too many randos in your pics.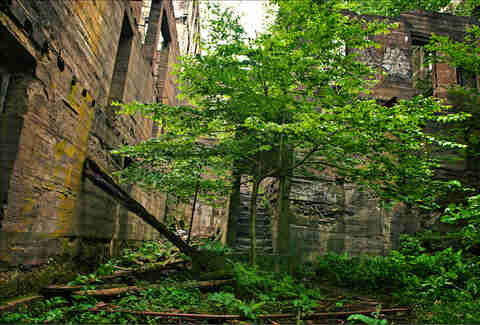 Overlook Mountain
Woodstock
Distance: 4.8 miles
It's not about the journey with this one: It's about the destination. You'll walk uphill along a gravel road with power lines the entire way — not quite the bucolic getaway you traveled all the way from the city for. But you'll hit the first cool landmark after about 2 miles — the ruins of an old hotel from the area's heyday as a resort destination (remember Dirty Dancing?). A climbable fire tower (which you should definitely scale) is a half mile further. Follow the trail a little bit longer for a jaw-dropping cliff edge view of the Catskill Mountains and Hudson Valley. Told you it was worth it.