Single speed bicycles offer a basic and straightforward cycling experience. With their unique advantages over other types of bikes, single gear bikes have been gaining in popularity.
Many riders prefer these simple bikes for exercise, commuting or just for pleasure. Single speed bikes are low-maintenance, simple to ride and very lightweight.
Pure Cycles Pure Fix Original Single Speed Bike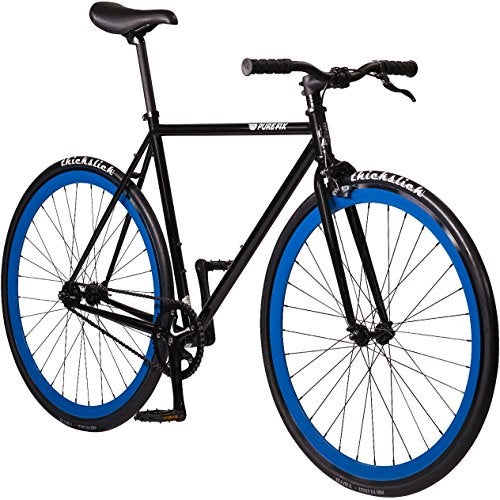 Pure Cycles Pure Fix Original Single Speed Bike at a Glance:
Size: XX-S (43cm), XS (47cm), S (50cm), M (54cm), L (58cm), XL (61cm), XXL (64cm)
Gearing: Flip-flop hub, 44:16 ratio, KMC chain
Handlebars: 30mm alloy riser bar
Wheels & Tires: 40mm deep-dish rims, 700cc x 28″ Kendra tires
Frame & Fork: High tensile tig-welded steel frame
Brakes: Removable front rim brake
Pure Cycles is our Editors Choice for the best single speed bike that features a flip-flop hub. This model stands out for its components and many available size and color choices.
Frame & Build
This single speed bike is efficient and comfortable with a stylish look. The high tension steel frame emphasizes urban use and is paired with a straight steel fork for durability and shock absorption. The material is heavier than aluminum alloy, but makes for sturdy bike.
Features
With alloy riser handlebars that are slightly swept back and a comfortable leather saddle, you ride more upright but still aggressive enough for the occasional sprint or race. The flip-flop hub is sealed and gives you a gear ratio of 44:16, which is pretty standard for an urban single speed.
The platform pedals are standard, and you have a front brake for safety reasons, a concession to the fixie riders. Note that other single speed bikes usually feature both front and rear brakes.
The 700c by 28c tires are slick and nimble for good top speed and agile maneuvers.
Bottom Line
With this single speed bike, you get good quality for a very affordable bike. Both beginners and more advanced riders will appreciate the features of this single speed bike.